We all have different faces and different bodies so it's no surprise that our vaginas and vulvas will look different too. Yet many people still want to know: is my vulva typical or 'normal'?
Before we get into what is 'normal' let's talk about the different parts. When most people talk about the appearance of their vagina what they're actually talking about is the vulva. The vulva is the outside parts and this includes the labia (often called the lips), the clitoris, vaginal opening and the opening to the urethra – this is where pee comes out.
The vagina is the inside tube which leads from the cervix down to the vulva.
Getting more into the details:
Labia: These are the two sets of fleshy lips, the labia majora are the larger lips that will usually have some hair. The whole deal with these parts is that they're there to protect the parts in between, your labia minora, clitoris, urethra and vaginal opening.
The labia minora are the inner fleshy lips and tend to be softer, thinner skin and appear more pink. They're also there to play a protective role and for some people can be sensitive and a source of pleasure during sexual activity.
Clitoris: You can only ever see just part of the clitoris, that is the tip/glans of the clitoris. The whole clitoris is about 9-11cm long. The external part you can see is at the top of the vulva where the inner labia meet. The external tip is made of densely packed nerves, which is what you can see and touch in the vulva. Everyone's clitoris will be a different size, with the tip/glans typically between 1-2cm long. Fun fact: the only know purpose of the clitoris is to provide pleasure!
The Vulva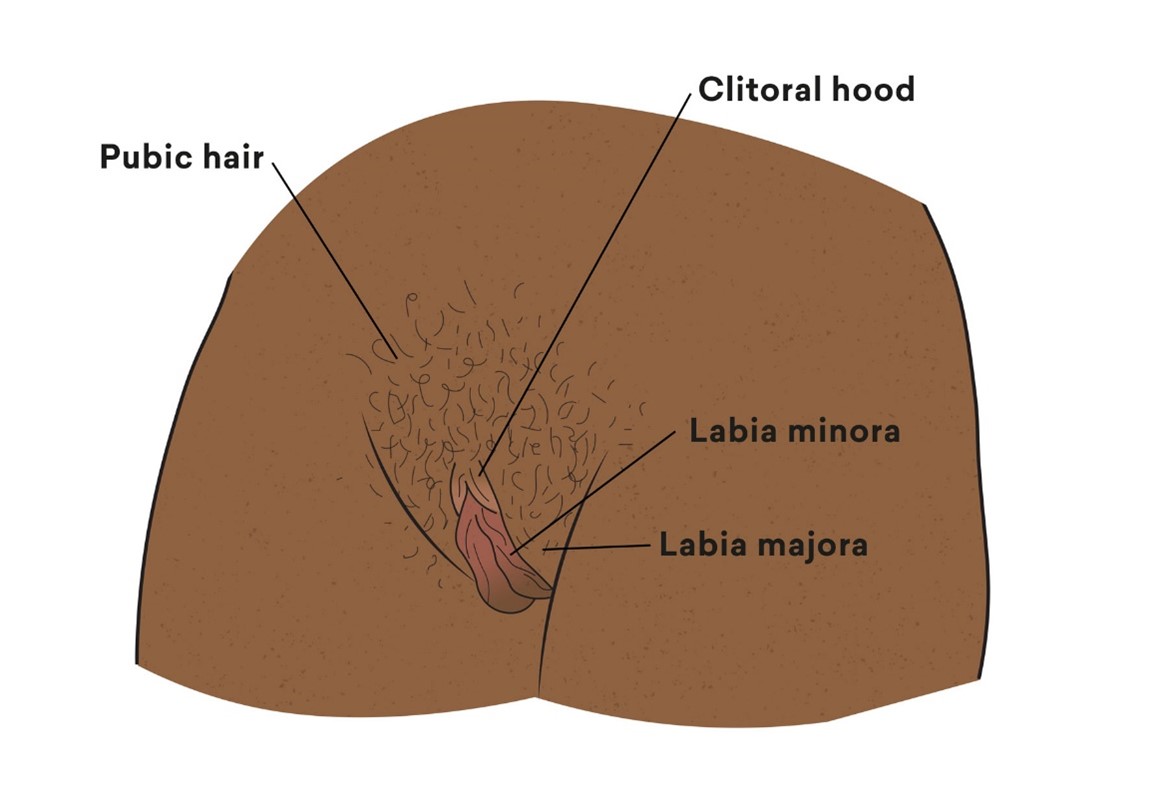 So is my vulva 'normal'?
Many people with a vulva will feel insecure about their bits at some point in their lifetime. It's important to know that there is a lot of variation in how the labia themselves look. Vulvas can be different shapes and sizes, be symmetrical and asymmetrical i.e. one side of the lips bigger than the other. Unless they're causing you pain then your labia is normal.
Want to see what different vulvas look like in real life? There are lots of places where you can get a realistic view of what different vulvas look like. The Labia Library is one place where you can see the diversity of labias/vulvas.
What's the deal with vaginal smell, discharge, and itching?
It's normal to have vaginal discharge or vaginal mucus or secretions. The texture and amount of discharge can vary throughout your menstrual cycle.
It's normal for your vagina to have a scent but if you do have any concerns about the smell of your vagina or notice changes in the colour of your vaginal discharge it's a good idea to see a GP or sexual health clinic. The most common cause of unusual vaginal discharge is bacterial vaginosis, which can cause an unpleasant smell. It can be easily managed, so see your GP if you're worried.
If your vagina is itchy it could be a sign of infection or a skin problem. If you have a persistent itch you should see a GP or a sexual health clinic so it can be correctly managed. Most people have heard of thrush which is an overgrowth of yeast in the vagina. Thrush can cause an itch and usually a change in vaginal discharge. However, other conditions can cause the vulva to be itchy so self treating for thrush should not continue if symptoms do not go away.
How should I clean my vagina and vulva?
The vagina itself is self-cleaning, it doesn't need any products to help keep it clean.
Inside the vagina there is good bacteria which helps protect it. When the balance of bacteria is disrupted it can lead to infections such bacterial vaginosis or thrush. That's why it's important to avoid perfumed soaps, washes and gels as they can impact the bacteria and pH levels in the vagina and cause irritation.
You don't need to clean your vagina as it uses natural secretions or discharge to keep it healthy. To best care for the vulva wash the external area with warm water only and gently pat the area dry
Whilst you shouldn't be cleaning down there too much there are some things you can do to look after your vulva and vagina:
keep the vulva area as dry as possible, which may involve changing underwear if it becomes wet with sweat, menstrual blood, or other fluids
use condoms and dental dams (if you're receiving oral sex) to reduce the risk of STIs
pee after having sex to avoid developing a urinary tract infection (UTI)
when going to the toilet wipe from front to back after urinating
try to avoid having vaginal sex straight after having anal sex, as this can spread bacteria from the anus to the vagina (in this case, you could use a new condom)
use cotton underwear rather than synthetic material and avoid wearing tight pants/activewear all the time
Your vagina and vulva are probably normal, but if you need help it's out there
The vagina and vulva are intimate parts of the body making it hard to compare notes with others. Yet chances are if you have those parts, they're most likely normal.
However, if you are worried about certain things for example itching, a burning feeling, changes in discharge or pain during penetrative sex then speak to SHINE SA or a GP. Remember that these questions are common, and you don't need to feel embarrassed.
If you're nervous about speaking to someone face-to-face you can call SHINE SA's Sexual Healthline service where you can speak to a sexual health nurse for free.
Call 1300 883 793, the Sexual Healthline is open Monday – Friday, 9:00am – 12:30pm.